No time to read? Listen to the text-to-speech version on the go.

In need of a vintage painting to grace your wall? Craving a state-of-the-art smart TV? Or perhaps you've forgotten a special day, and you're looking for a gift that screams, "I didn't forget! I just missed the date!" We've all been there - luckily, we have the magic of online shopping to save the day. Have you wondered how these conveniences of eCommerce can translate into the B2B sector?
Widespread adoption of eCommerce
Online shopping, once seen as a trend for the younger, tech-savvy crowd, has become a common habit for people of all ages and places. Affordable smartphones and fast tech progress have made e-commerce more available to everyone and easier to use. Even my grandparents, who used to struggle with simple text messages, now shop online with confidence. And it's no surprise why, as digital commerce offers many advantages:
Endless Product Selection: Online shopping eliminates the limitations of a physical store.
24/7 Accessibility: ECommerce has no opening or closing hours. Whether you're a night owl or an early bird, you can shop at your convenience.
Informed Decision-Making: Extensive product information, user reviews, and comparison features make it easier for customers to make informed choices.
Quick Delivery: Gone are the days of waiting weeks for an order to arrive. Customers can receive their products in a matter of days or even hours.
Simple Product Comparison: No need to visit multiple stores or sift through numerous catalogs. ECommerce platforms provide an easy way to compare products and prices.
As individual customers, we have embraced the convenience and simplicity of online shopping. Yet, it's surprising that many businesses continue to resist this digital transformation, especially in the B2B sector. Despite the apparent advantages, B2B eCommerce remains an underexplored territory for many traditional businesses.
B2B Today: Where tradition meets modernization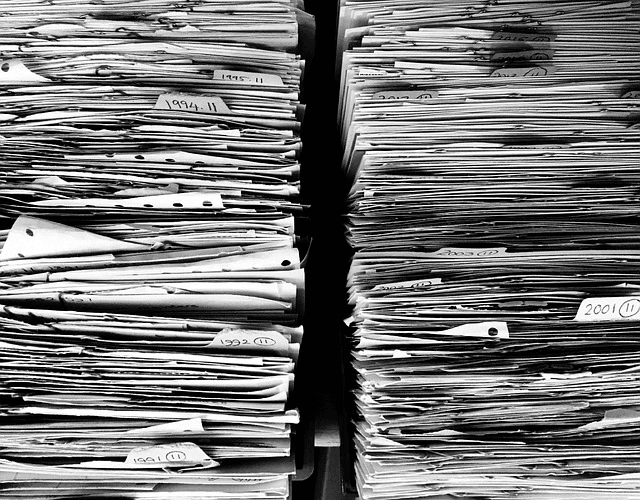 The lack of B2B eCommerce does not mean that more traditional businesses, like manufacturing companies in the construction industry, are strangers to innovation. On the contrary! The innovation of many B2B companies is in the physical world - not a digital one.
One could ask: "If they are so innovative, why can't they start a simple eCommerce platform? I can have a Shopify running in an hour!" In many ways, B2B businesses have remained steadfast in their traditional methods. But it's not entirely without reason.
The challenges hindering B2B eCommerce adoption
Contrary to popular belief, setting up a B2B eCommerce platform isn't as easy as pie. It's not like putting up a lemonade stand in your front yard. B2B companies have been built on years of relationships, networks, and intricate supply chains.
Furthermore, business processes are often far more complex in industries like manufacturing. Large-scale orders frequently necessitate the knowledge and guidance of a trained sales representative. For many, the idea of disrupting their well-oiled machinery with digital technology can seem daunting, even though a significant opportunity lies just around the corner.
The current status quo and its limitations
A closer look at the B2B landscape reveals that although the majority of businesses have begun their digital journey, many still operate primarily offline. B2B companies often rely heavily on traditional sales channels, such as direct sales, phone orders, or paper-based purchase orders.
This approach, however, restricts their reach and scalability significantly. Moreover, it overlooks the market demand and the rising preference among customers for online purchasing over phone-call-based ordering processes.
How eCommerce platform can serve B2B businesses
B2B eCommerce is no longer the complex and inaccessible beast it was once perceived as. Technological advancements allowed us to create more cost-effective solutions way faster, making the transition to digital commerce a viable option for businesses of all sizes and industries.
ECommerce platforms have evolved to handle the complexities of B2B transactions, such as:
Custom pricing
Bulk orders
Contract-based purchases
Moreover, these modern eCommerce platforms can integrate seamlessly with existing business systems, significantly reducing the disruption caused by the transition to digital presence. In other words, the digital world is ready for B2B – but is B2B ready for the digital world?
The myth of low eCommerce adoption
Before diving into the key benefits of a B2B eCommerce platform - let's address a common misconception that most companies don't offer buying through an online store. Wrong! According to McKinsey & Company, 65% of B2B companies now offer e-commerce capabilities. And on top of that, eCommerce and in-person sales are tied as the top-producing revenue channels.
With the growth of B2B eCommerce, we can expect that market demands for better customer experience and being able to do product research online will keep growing, and eCommerce platforms will take the lead as the highest-revenue-driving sales channel.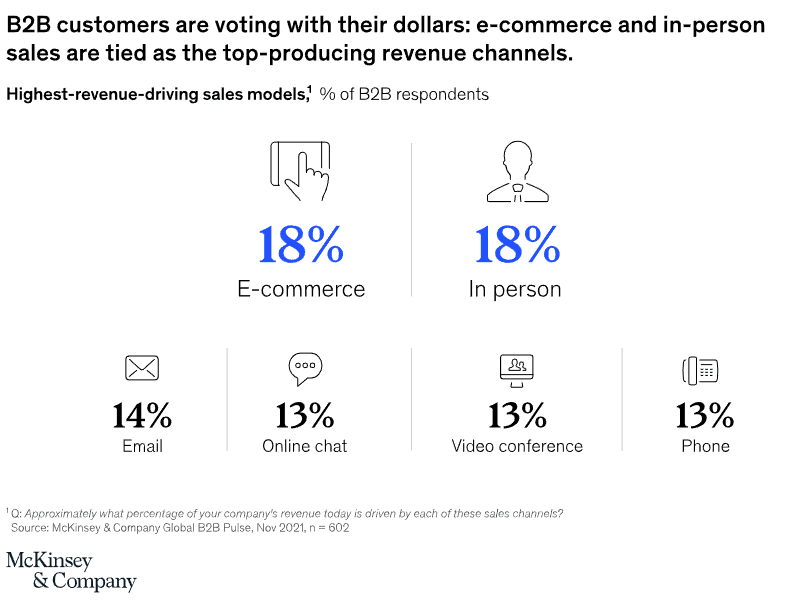 How can B2B eCommerce help your business?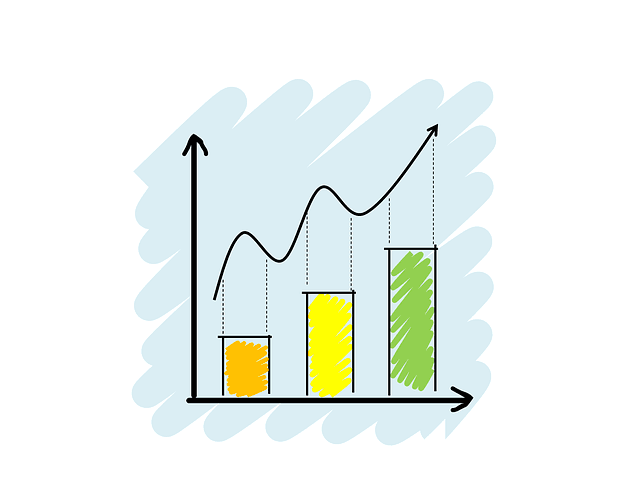 Let's move to what tigers like most - how B2B eCommerce can get you more sales and help your business grow. ECommerce solutions offer endless opportunities, but each B2B company is different. Some will look for cost-saving options, some will look for ways to scale their business, and others aim to create a solid online presence. Having an online store can be beneficial in all those areas.
1. Increase sales by gaining a competitive advantage
Gone are the days of buyers preferring in-person shopping, phone calls, or sending emails over online ordering. If your competition offers instant online access to their product catalog - you're being left behind. But there is a bright side - even though some areas have a high adoption rate of B2B eCommerce, it's still an unexplored territory for many.
Moving your wholesale business online presents a wealth of growth opportunities. By catering to those who prefer using online platforms, you open up to many new potential customers who value the convenience and accessibility of online shopping. This broader customer base and increased accessibility can result in accelerated growth, higher sales volumes, and the potential to explore new market segments or target industries previously untapped.
2. Attract new demographics of buyers
The emergence of millennial buyers in the B2B sector played a significant role in driving the adoption of new technologies. As younger generations took purchasing roles, their preferences and habits from daily life transitioned into the professional one. Their preferences for seamless digital experiences and intuitive technologies influenced businesses to modernize their operations.
But there is more! Even though it was the young generations who drove the change, high expectations for customer-centric online experience are no longer the domain of the young. Being able to order online is now one of many customer demands that businesses need to consider.
3. Improve products visibility
Have you ever wondered how many people know your product catalog? When your potential customer needs to find a specific product - they will usually turn to the good old friend - Google. That's why it's crucial that search engines know our product catalogs. And eCommerce platforms can help with that immensely.
An online platform can also be a gateway for existing customers to discover a wider range of products your business offers. Through intuitive navigation, smart product recommendations, and comprehensive catalogs, customers can stumble upon and explore products they might not have previously known.
4. Focus sales team on high-value deals
Are your sales teams juggling too many balls, handling both small orders and complex, high-value deals? It's time to give them a break. Your eCommerce platform can handle routine stuff, like recurring orders or spare part replacements.
There's no need for a sales rep to make a phone call or an email to order a single spare part for a forklift or a replacement for a scratched showerhead. Your sales team should be focusing on securing new customers and big deals, not spending their time on routine transactions. With eCommerce, you can streamline these tasks and let your sales team concentrate on what they do best – closing those high-value deals.
5. Utilize analytics data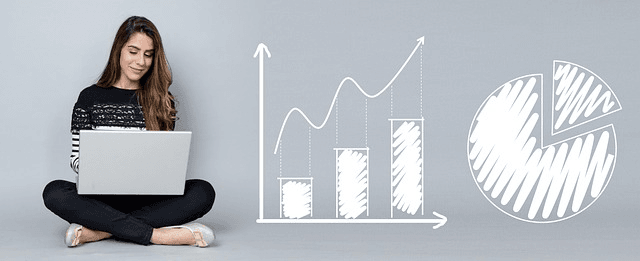 You've probably heard that "Data is the currency of the future." Having a B2B eCommerce solution allows you to collect a plethora of information about how your customers make their purchases. By collecting and utilizing data gathered by your eCommerce solution, you can:
Evaluate marketing campaigns
Constantly improve customer experience
Measure customer engagement metrics
Adjust your online sales process
Reach out to customers who left products in the cart without finalizing the deal
While gathering data is just the first step, it's arguably the most important one. You can't make data-informed decisions when you don't have the data. And eCommerce sites are an essential tool that makes the whole process significantly easier and cheaper.
Using data and actually implementing improvements to your eCommerce store can result in a delightful customer-centric experience and improved sales engagement.
6. Improve ROI of advertisements
When stepping into B2B eCommerce, an advantage you'll quickly recognize is the potential for a high return on your advertising spend. Given the substantial order values that are common in B2B transactions, you can afford to dedicate a higher cost per click in your advertising campaigns while still securing a profitable return.
The key is strategic ad targeting. Reaching the right B2B audience can effectively draw high-quality traffic to your eCommerce platform and, in turn, convert leads into valuable customers. B2B eCommerce presents opportunities for optimizing your return on ad spend, enabling you to make the most of your marketing efforts and drive your company's growth in a competitive marketplace.
Imagine your online store as a central hub showcasing all your products. This digital exhibition encourages existing clients to explore and potentially purchase additional products, thus increasing order value and customer retention.
By merging built-in features of B2B eCommerce solutions with savvy sales techniques like cross-selling, up-selling, or bundling, your business could see considerable growth. Let's take it further - envision your marketing team deploying captivating campaigns that direct customers straight to your eCommerce site. The opportunities are substantial, and previously high costs are now much more affordable, thanks to the benefits of B2B eCommerce.
8. Cementing long-term relationships
B2B eCommerce isn't just a tool - it's a customer loyalty builder. Think about it. B2B customers, particularly those in wholesale, are often repeat customers, coming back to us time and again. Each time they do, they're potentially bringing substantial revenue with them. A single new client could contribute hundreds of thousands of dollars to your bottom line each year.
By embracing B2B eCommerce, we're not just inviting these customers to shop - we're inviting them to stick around. By creating an exquisite customer experience, we're cultivating long-term relationships, turning customers you keep fighting for into loyal customers who come back to us year after year. And in doing so, we're giving our financial success a serious shot in the arm. It's not just about making a sale - it's about making a connection that leads to a profitable future.
9. Reduce costs
For businesses, for example, in the manufacturing industry, digitizing their processes may appear challenging, but the rewards are considerable. Investing in B2B eCommerce is a key step in initiating your digital transformation and taking your business processes online, allowing for increased productivity and streamlined operations.
An eCommerce platform can be likened to an automated asset equipped with features designed to manage repetitive tasks. Consequently, your team can concentrate on mission-critical activities such as fostering growth, driving innovation, and delivering excellent customer service.
And once your eCommerce is up and running and brings you considerable revenue - maintaining an eCommerce site is way more cost-efficient than maintaining a whole chain of brick-and-mortar stores.
10. Unleash the potential of low-margin products
In the world of B2B eCommerce, a key advantage is the potential for high average order volumes. For instance, take industrial supply businesses - they frequently see substantial order values that reach thousands of dollars. Even with a relatively low conversion rate when wooing new customers, these high order values can lead to solid profits.
B2B eCommerce opens a golden gate of opportunity. By tapping into it, you're not just increasing revenue, but you're also using new sales channels and expanding your customer base. You're capitalizing on the ability to sell large volumes of low-margin products, turning the low margin into a high return. And the best part? You're not only growing your business but also ensuring its longevity in the competitive B2B landscape.
11. Build trust through a professional image
There's something incredibly professional about having your own e-commerce solution. It gives off a vibe of being trustworthy, reliable, and customer-centric. It says to your clients - "we've got you covered."
By offering a streamlined, user-friendly online interface, you're not just providing a service. You're showing your customers that they're in the driver's seat, that they're in control of their purchasing journey. This level of professionalism doesn't just boost your image - it strengthens your relationships with your clients.
An online platform screams accessibility and transparency. It's available 24/7, providing real-time information at the customer's fingertips, which instills a sense of reliability and trust in your brand. It's like telling your clients, "We're here, we're open, and we're ready to meet your needs" at any given time. That kind of assurance? It's priceless.
The future of B2B eCommerce: It's time to step up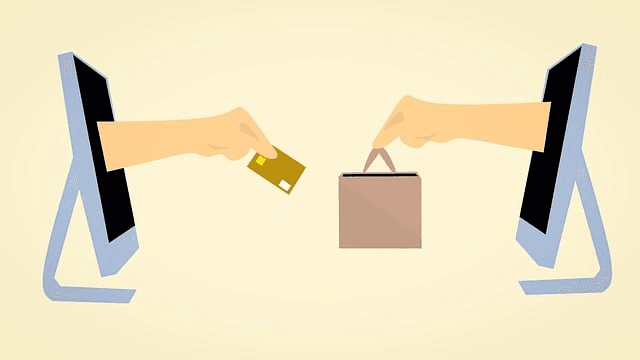 As we conclude, one thing is clear: B2B eCommerce is not just a trend - it's reshaping the business world. Both established and aspiring businesses need to recognize and adapt to this change.
No matter your industry - be it manufacturing or wholesale - eCommerce offers a path to better sales, simpler operations, valuable data, a larger customer base, and stronger client relationships.
But remember, eCommerce isn't just another sales tool. It's about transforming your whole approach to business, embracing digital innovation, and securing your place in a digital future.
So, let's not see B2B eCommerce as a daunting task. Instead, view it as a golden opportunity. A chance to evolve and take your business to the next level.
Now is the time to embrace B2B eCommerce. Ready to start the journey?